K-9 HEROES DAY
COME JOIN THE HANOVER HOUNDS K-9 SEARCH AND RESCUE TEAM
AND HONOR ALL WORKING DOGS - MILITARY, POLICE, SEARCH & RESCUE

The location this year is the
POLE GREEN PARK
in Mechanicsville, VA. The
POOCH PURSUIT 5K or 1 MILE walk, brought to you by the Friends of Hanover Dog Parks (www.friendsofhdp.org), starts at 9:00 AM. The Hanover Hounds will begin the ceremonies for K-9 Heroes Day sharply at 10:00 AM.
The event will then last until 1:00 PM. Come out and witness or participate in the demonstrations from the Fort Lee Canine Team, Police Canines from various Police groups, and a search and rescue from the Hanover Hounds Team. There will even be Therapy Dogs ready to play with.
Food will be available, and many vendors will be displaying their wares for sale. Games for canines? Oh yes! We have Tricks for Treats, a Howling Contest, and even Bobbing for Tennis Balls. A little musical sit for the canines, followed by the Dog Gone Spring Egg Hunt is in fashion that day. And who can never forget that Frosty Paws Eating Contest?

So come on out to Pole Green Park and HONOR the military and civilian K-9s and their handlers.

The event flyer is available by clicking here.

---
---
YOUR HANOVER HOUNDS
CELEBRATE K-9 VETERANS DAY
MARCH 14, 2015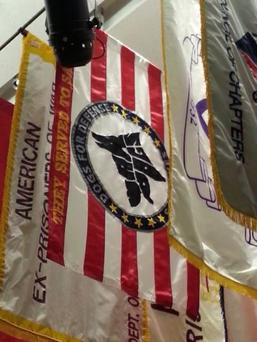 Co-hosted by the Hanover Hounds K-9 Search and Rescue Team, this annual family-friendly event honors the contributions of the heroic dogs who have served side-by-side with their human companions on the battlefield in time of war and also at home, assisting police and law enforcement, performing search and rescue missions, and providing companionship
to our wounded warriors. Along with the Richmond City K9 Unit, canines from Fort Lee, and the Capitol Police, the Hounds performed and demonstrated to the crowd the capabilities of a working canine. Please check out the slide presentation below.


Do you know the history behind K-9 Veterans Day? Do you know that one month after the Japanese attack on Pearl Harbor, in January of 1942, a group of dog-minded individuals established the "Dogs for Defense."

Click on this line to download The History of K-9 VETERANS DAY. You will be amazed!

---
---
MEET YOUR HANOVER HOUNDS K-9 SEARCH AND RESCUE TEAM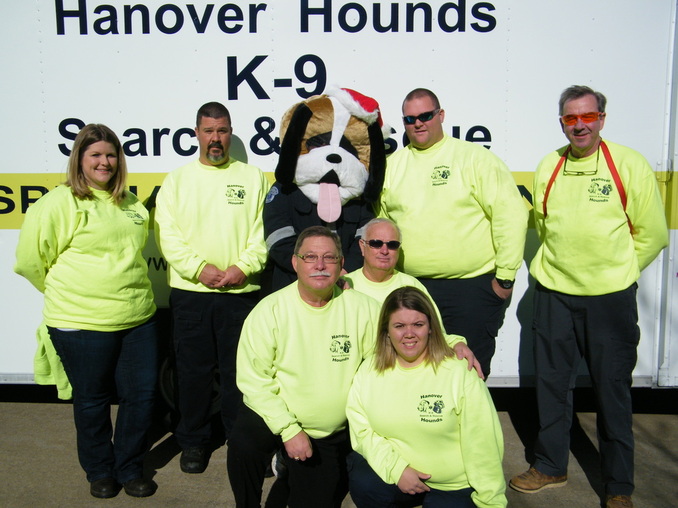 Left to right on top row, April Minter, Brian Parrish, Ven Barnes as Santa Paws, Chris Minter, and William Call. On the bottom row, John Von Hagel, Ed Martin, and Brandi Norton. Not shown are Teresa Parrish and Jim Bowen. PHOTO TAKEN 12.07.14.
---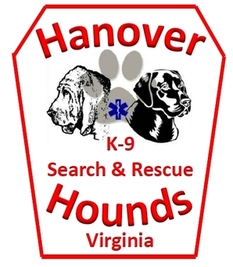 ---
THE MISSION OF YOUR HANOVER HOUNDS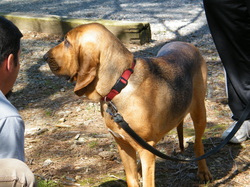 The Hanover Hounds K9 Search and Rescue was created to form teams that will provide the citizens of Hanover County and the Commonwealth of Virginia, WITHOUT COST, highly trained search and rescue personnel along with their K-9's, to help locate the lost and missing in our community. These services are available to law enforcement and Fire/EMS when needed.

If we are tracking a person with Alzheimer's that has wandered away from their home, or a child that has gotten lost in the woods while hiking, our goal is to be on scene and tracking as quickly as possible. If the missing person is one of your family members, we want to bring them back to you safe and sound.
---
---
SEARCH AND RESCUE DOG TRAINING
Our team will train all working breads of dogs from COLLIES, SHEPHERDS, and LABRADORS, to the well renowned BLOODHOUNDS.

Dogs locate people that are lost or missing by tracking their human scent left behind by over 40,000 skin cells dropped every minute. The SAR dog training is gradual and each dog responds at its own pace. When we train, we use a variety of subjects for mock search and rescue exercises to keep our skills and knowledge at the highest level possible.

We train to the standards of the International Bloodhound Training Institute, and we also attend other training sessions held by other Search and Rescue groups across Virginia.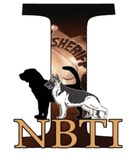 ---
HOW SEARCH AND RESCUE DOGS WORK
The tracking dog works on a lead 20 to 30 feet in length. After arriving at a search site we will collect a scent article of the missing person. We will than put a harness on the dog, attach lead, and present the scent article to the SAR dog. Once the dog picks up the scent the SEARCH IS ON! Hopefully after a short period of time, the team will locate the missing person and bring them back safe and sound to their loved ones.

QUICK ACTIVATION
Activation of a SAR K-9 Team is vital to locating a lost or missing person. History has shown that in most cases, more than 3 to 4 hours pass before the K-9 team is activated. This allows the track to age and make it harder to pick up the scent. The first thing that happens when a person goes missing, is the family will notice they are missing and search for a period of time before calling for help. The average time is about 1 hour. Most of the time, law enforcement is the first to arrive. It will take them anywhere from 30 minutes to 1 hour to collect information about the missing person. They may search for a while before calling for Fire or EMS for assistance. Usually when Fire or EMS agencies arrive, they will search for a while before calling for SAR K-9 Teams. This may not be true in all areas, but it is usually true in most cases. Our goal is to have the SAR K-9 Team activated as soon as the missing person is reported. We would rather be cancelled in route then to arrive after the trail has aged.
---
Please help us, so that others can be found!
By clicking on the
DONATE
icon below, you will be connected with
PayPal
. Whether you have any account with PayPal or not, we will gladly accept your donation to our cause.
We thank you for your help.
Hanover Hounds K-9 Search and Rescue is a non-profit 501(c)(3) corporation
, and is dedicated to assisting the citizens of Hanover County and the Commonwealth of Virginia. If you seek verification of our tax structure, please contact our Treasurer at
treasurer@hanoverhounds.com
.
---